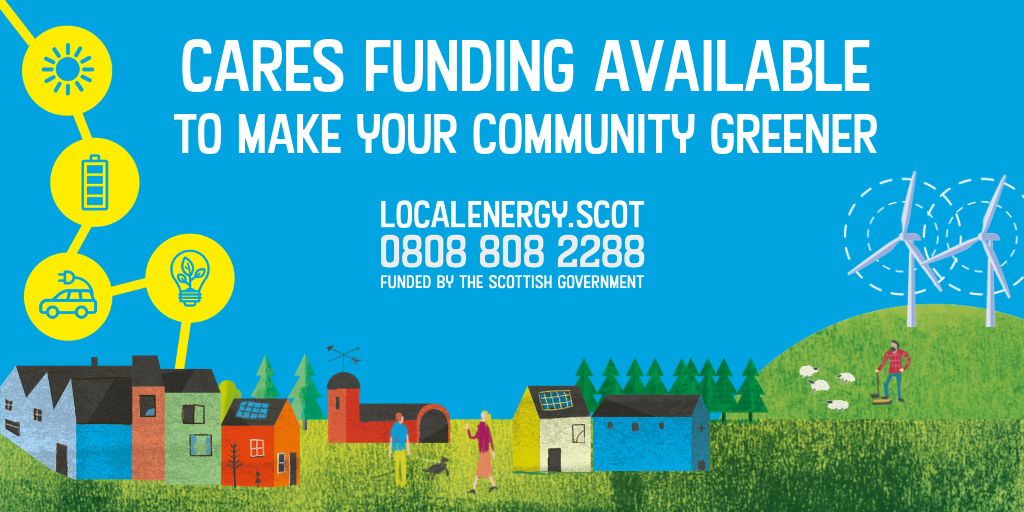 Achieving net zero means we all need to take action.
The Scottish Government's Community and Renewable Energy Scheme (CARES) is here to support communities to engage with, participate in and benefit from the energy transition to net zero.
The new Let's Do Net Zero Community Buildings Fund from CARES will help community organisations reduce their building energy costs and greenhouse gas emissions. The fund is now open and is planned to run until the end of March 2025, subject to funding availability.
Funding is available for many types of self-managed community buildings, including:
village halls
community centres
community hubs
sports facilities
faith buildings
CARES has already supported many community organisations throughout Scotland to successfully install renewable technologies in their community buildings. You can read about these projects on our website, including:
Who can apply?
Applicants must be constituted non-profit distributing community organisations, including organisations with charitable status, that are established and operating across a geographically defined community, or faith groups.
Some common community organisation structures include:
Scottish Charitable Incorporated Organisations (SCIO)
Private Companies Limited by Guarantee (CLG)
Community Benefit Societies (BenCom)
Community Interest Companies (CIC)
Please note: Organisations that are constituted but unincorporated may also apply but must provide additional information.
About Local Energy Scotland and CARES
Local Energy Scotland administers and manages the Scottish Government's Community and Renewable Energy Scheme (CARES).
We are a consortium made up of: Energy Saving Trust, Changeworks, The Energy Agency, and Scarf, with support for delivery from Ricardo Energy & Environment and QMPF.
We help communities with:
free advice and support to develop renewable energy schemes, or to secure and manage income from renewables
advice on funding streams
support to access CARES funding
support to access the Energy Investment Fund (post-consent loans).
CARES was established by the Scottish Government to encourage local and community ownership of renewable energy across Scotland and to help maximise the benefits to communities of renewable energy systems – whether commercial or community-owned. Its goal is that communities across Scotland are engaging, participating and benefiting in the energy transition to net zero.
CARES aims to accelerate progress towards the Scottish Government's target of 2GW of renewable energy to be locally or community owned by 2030, and to assist with delivering the Scottish Government's Energy Strategy through the provision of loan finance, grant funding and specialist advice.